Jobs-On-Chain Weekly, Vol. 5
Your trusted source for the latest employment opportunities and hiring trends in blockchain & crypto. Our weekly newsletter includes a concise roundup of new job listings and key industry insights.
---
Trends to Consider in 2019:
GOOGLE TRENDS
The graph below is from google trends and it shows the amount of interest over the past year for the keywords "blockchain jobs." As you can see, the data shows interest steadily ranging without a clear directional trend the past 12 months. The following keywords also yielded a similar ranging pattern: cryptocurrency jobs, crypto jobs, bitcoin jobs. While ranging volatility isn't necessarily a positive indicator, it's not uncommon for emerging technologies to experience waning interest during volatile down market cycles.
DELOITTE'S 2019 GLOBAL BLOCKCHAIN SURVEY
Delotte conducted a survey in Feb/Mar 2019 to gain insights into the overall attitudes and investments in blockchain as a technology. The survey polled 1,386 senior executives in a dozen countries at companies with minimum $100 million (USD) annual revenue. View the full report here.
It's especially valuable to gauge sentiments within the larger enterprise market as it's a big driver of technology adoption. The survey results are quite revealing, so we encourage you to read the full report (we'll highlight a few). One particular question focused on the 'relevance of blockchain within the respondents organizations'. The figure below shows the results, which clearly indicate a shift towards making blockchain a top, strategic priority.
Another indicator of blockchain gaining traction is the confidence respondents (executives) showed in the importance of the technology. This is reflected in the below figure showing a marked decrease in organizational barriers previously limiting investment. We've also seen this play out in the news with significant blockchain-related investments occuring from companies like Baakt, Facebook, Microsoft & others.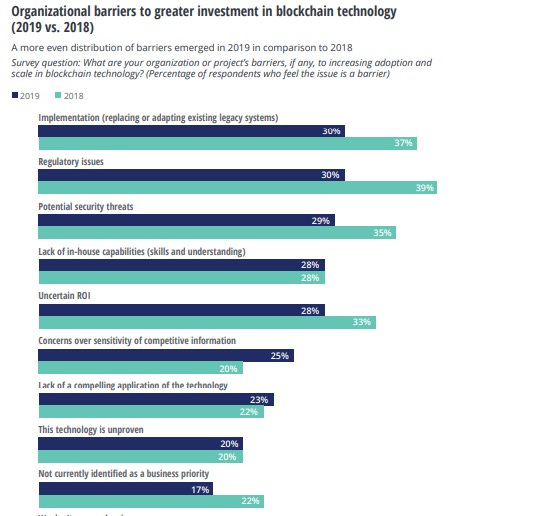 As we approach the end of 2019, it will be interesting to see how these trends play out in the market and what impact they'll have on career opportunities heading into the new year. One thing is clear for job seekers: the days of employment options being limited to risky startup ventures is over.
THIS WEEK'S JOB LISTINGS!
This PACKED edition features 56 new jobs (50 full-time, 6 internships). We've listed them in the following categories below for easy filtering:
Decentralized Finance (NEW)

Engineering/Product

UI/UX Design

Business Development & Marketing

Other/Non-Tech
If you enjoy our weekly newsletter, please share with others!
New Jobs: Decentralized Finance (DeFi)
(10 full-time jobs)
New Jobs: Engineering/Product
(16 full-time jobs, 2 internships)
New Jobs: UI/UX Design
(4 full-time jobs)
New Jobs: Business Development & Marketing
(12 full-time jobs, 4 internships)
New Jobs: Other/Non-Tech
(8 full-time jobs)